I get a lot of people asking lately about the contributions to the book of Dave Tuney, who's relationship to the book thus far, is only known by his name on the solicits. His contribution to the book is only about 30 pages, as opposed to Michelle's 150, but the quantity of Dave's work is part of what makes what he and I have been cooking up for his role in the book so special. Just because he gets less stage time doesn't take away from the fact that his contributions are just as important, and in some ways, a bit more fun.
In
Love Buzz
, the book's central male character Norm is like most of us, crazy about comic books and wants to become a professional artist when the story takes place. At a point through the book, Norm in his budding relationship with Maggie, begins keeping and trading off this big sketchbook with her that he'll every now and then begin drawing little comic entries into about their relationship and later their love and numerous break ups along the way. Dave's role in Love Buzz is essentially acting as Norm's hands through these segments.
I get a lot of people asking me to show off some examples of Dave's work on Love Buzz and how it relates and contrasts to Michelle and what she does as the person telling the book's central story. I've worked with Dave on several small projects over the last several years, and his role in Love Buzz was cemented into place even before Michelle came on board. I applaud him for sticking with us through everything, and I'm even more in awe of seeing how much his art has grown since our first work that we abandoned half way through, [URL="http://www.myspace.com/cousinwinslow"]My Fair Zombie[/URL].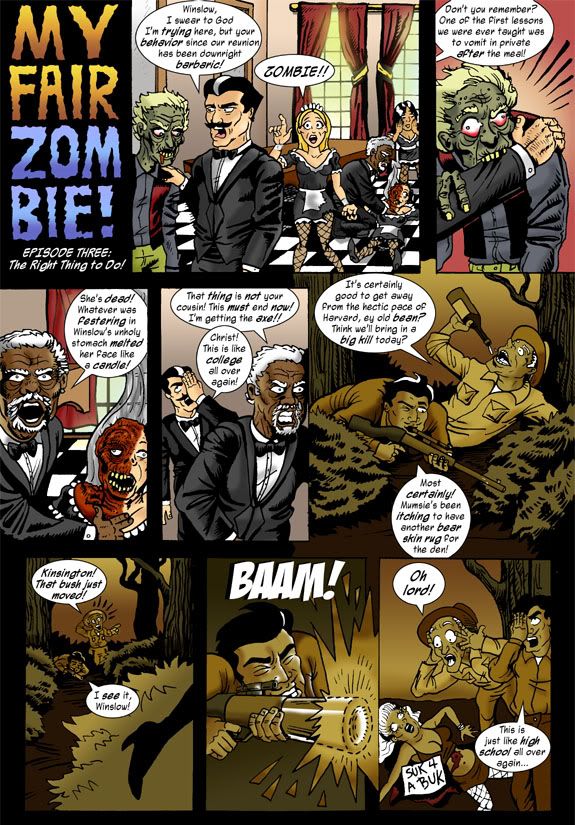 My first work with Dave on the short-lived, unfinished opus,
My Fair Zombie
.
Here's a page Dave just recently completed in a 4 page sequence. An homage of Norm's to Jim Steranko's original Nick Fury comics. The rest of the sequence is a blast, and adds a little extra flavor to the story of Norm and Maggie's relationship as well as the whole "Hero worship" aspect of Norm's own "coming of age" story. There are several independent Dave scenes as well as a few other really fun homage sequences that include Frank Miller's Daredevil, Herge's Tintin, and the campy Adam West Batman TV series among a couple others.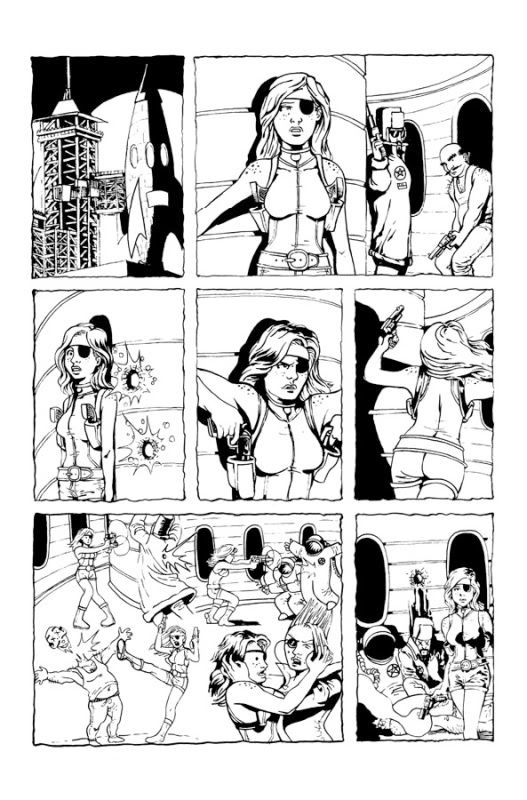 Love Buzz
- Page 46 - illustrated by Dave Tuney
Dave and I have also worked on a couple of short stories for various anthologies that either have already, or will soon see print, and he's been a great go-to guy for kicking out some of my better small ideas over the years. That said, with the improvement in his game and the spotlight that will be provided to us both, post-Love Buzz, Dave and I are in the process of looking forward into a new, bigger collaborative effort in the coming future. We've yet to hammer out any concrete details yet, and probably won't be able to until Love Buzz is turned in and off to the printers in a couple weeks, but there's something big brewing there.
Here's to you, Dave. And your luxurious girl hair!