HA!
Look what I found in the back of the latest issue of Greg Rucka's latest issue of "Stumptown"...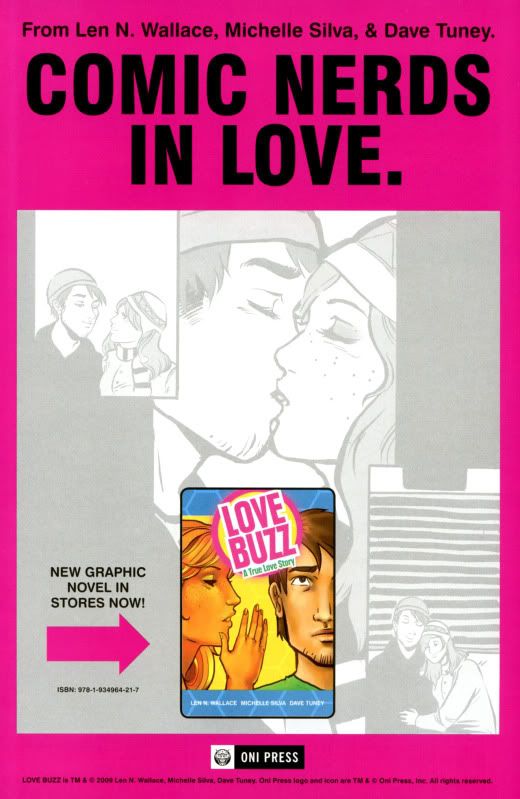 I love you, Oni... So, so much! XD
In other Love Buzz related news, our friends at
Graphic Policy
have named the book their pick for
"Graphic Novel Of The Year" for 2009
, where they said (among other things)...

"This was a graphic novel I could relate to. It had me reflect on loves that have come and gone, it made me think at an emotional level. How many comic books made you do that this year?

This graphic novel was not just the surprise of the year, but also think it's the sleeper comic of the year. It also helps we gave the graphic novel our first perfect 10 ever."
Also, after exchanging many, many emails with an enthusiastic new fan who's sold nearly 20 copies of the book off his own personal recommendations at
ACME Comics
, I wanted to help out the shop and do something special for them. His name is Matt Fair and because of his love for the book, we're proud to announce that I'm going to be part of ACME's annual "March Madness" event on the 13th of the month for a big, fat signing! I'm going to be sitting next to the likes of Chris Schweizer (Crogan's Vengeance), Ben Towle (Midnight Sun), and one of my heroes, Sean McKeever. (The Waiting Place)
To prepare for the signing, Matt prepared a bunch of questions for me to answer over the holidays. I gotta say, this kid just seemed to ask all the right questions to keep me rambling on until my fingers felt like falling off.
Read the entire, extensive interview here!
Man, it's just gotten kinda amazing to watch how everything is taking off from the sidelines like this.